Enchanted Evenings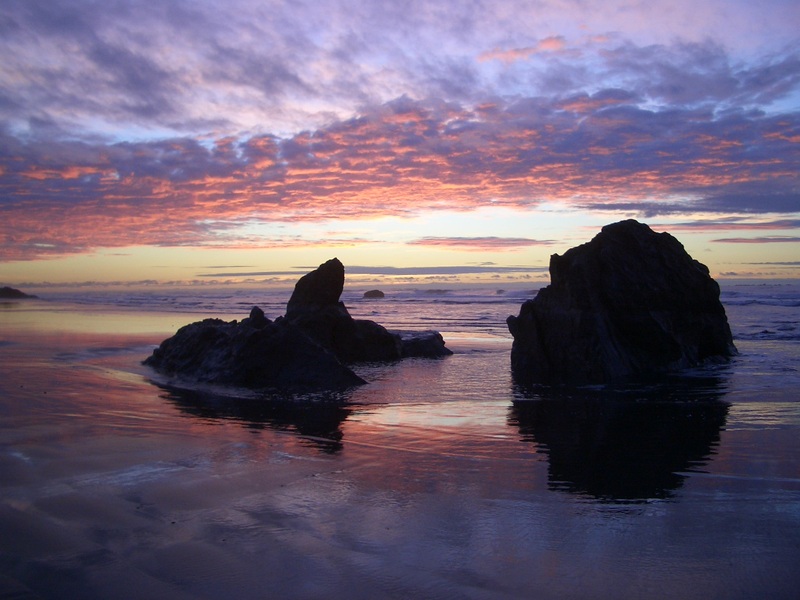 by Laurel Gerkman
(Published in Oregon Coast Magazine, March/April 2008)

Each evening as twilight envelops the Rogue River basin, seven 250-foot arches emit a luminous glow that shimmers in the water below.

The Isaac Lee Patterson Bridge spans the Rogue at Gold Beach. Completed in 1931, it is recognized as a National Historic Civil Engineering Landmark. To preserve its elegance and strength, the Oregon Department of Transportation recently completed a major restoration.

Adding night-lights to the bridge was a long-time dream of Maryln Schafer, Curry County Commissioner. Through 20-years, she sat on several committees watch-dogging for available funding. In 2002, Schafer attained a state grant.

A cooperative effort was then forged between the Gold Beach Chamber of Commerce, Curry County and the Oregon Department of Transportation to raise and manage the necessary funds for future maintenance. Coos Curry Electric Cooperative pays the annual electric costs.

During a rededication ceremony for the bridge in June of 2006, the waterproof, side-emitting fiber optic cable lights officially came on. The crowd hushed and stared enchanted.

That Big Gun: The Rogue River Cannon

By Laurel Gerkman

(Published in Oregon Coast Magazine, Mar/April 2005)

Celebrations halted abruptly! Onlookers gasped! Horrified screams and smoke filled the air! The jubilant atmosphere of picnic frolic and fun suddenly turned to alarm. Afterward, the July 8, 1903, issue of the Port Orford Tribune, reported: One of the saddest accidents that will mark the 4th of July just past, occurred at [Gold Beach, Oregon]

The cannon fascinated me. From the moment I first saw the imposing, rusted hulk, questions stirred in my mind. Who brought it to the remote south coast? How? Why? When? An explanation lurked somewhere behind the 1,300 pounds of weathered, cast iron. My query began, and a story unfolded like the plot of an intriguing novel.

In 1882, the large artillery gun arrived by ship at the mouth of Rogue River. Its owner, Robert D. Hume, brought the weapon ashore to impress local townsfolk. The so-called "Salmon King of Oregon" was a handsome and exceptionally successful entrepreneur. He owned several merchant vessels, over 90,000 acres, and a monopoly of businesses in Gold Beach. His cannery employed most of the local citizenry.

An account in the Port Orford Post, dated May 25th, 1882, befittingly describes their mixed reaction: We have got a new cannon in [Gold Beach]. The Chinamen think it is a good gun, and feel safe, but the fishermen say it is spiked. Well, if it cannot be heard on the 4th of July, we will not call it even a son of a --- cannon.

A Herculean effort was necessary to haul the massive firearm onto its prominent location, selected by Hume, overlooking the Rogue. In due time, the three-quarter ton ferrous bulk was pushed, pulled, and positioned atop its throne of jagged, serpentine rock high above the north shore.

Gloriously, the intimidating Civil War era weapon stood, pointed southwest towards the Pacific. Folks soon accepted the implement of battle as a noble addition to their isolated, small town. Pioneers claimed that big gun was fired every year thereafter, as highlight of festivities on the Fourth of July.



For over two decades, the cannon blasted a tribute to the nations birthday, surrounded by a flurry of waving flags colored red, white, and blue. Word of the unusual fanfare spread. Visitors increased annually, trekking great distances over rough territory--intent on witnessing the revered spectacle.



Baking contests, baseball games, and races of all sorts filled the daylight hours. Famished travelers gobbled lip-smacking lunches packed with fried chicken, sourdough biscuits, and blackberry pie. At sunset, crowds gathered for the grand finale. "BOOM!" A thunderous roar echoed repeatedly for miles into the coastal wilderness, amidst a rouse of cheers and applause. Everyone delighted in the annual tradition.



Until, an unexpected tragedy occurred, as described in the Port Orford Tribune, July 8, 1903: George Cook was frightfully and fatally mangled and passed away at 4 p.m. of July 5th. The previous day, with patriotic order, he and some other young men all inexperienced were firing the cannon, which they had done for two previous shots. It is alleged that after the second shot the cannon was not properly swabbed

Spirits sobered. Hearts grew heavy. Public response to the mishap was unanimous. The gun was immediately dismounted and never fired again. It lay discarded and abandoned for more than 30 years.

In 1935, young Howard Newhouse was visiting his fathers employer who lived in a rickety, cedar-shingled house. While adults talked, the boy went outside to explore. On that drizzly fall afternoon, the curious seven-year-old was drawn to a large, reddish brown mass in the front yard. He discovered the cannon partially cloaked in prickly underbrush; the rear half lay on a large slate rock, the muzzle submerged in dirt.


Howard was thrilled and quickly returned home to declare his prize. But, his mother implied, what was a mere lad to do with it? Any dream of retrieving the hidden treasure would have to wait. Eventually, the old house burned down and its property condemned. The firearm remained undisturbed.

Meanwhile, no attention was given the relic. At the onset of World War II, quotas for scrap metal triggered local supporter spirit. Several ambitious teenagers decided to capitalize on the cannon. Combined efforts of four husky, high school students and a Model A pickup truck were soon thwarted; the attempt being no match for such an awkward weight. The gun escaped peril and was again ignored. Time passed.

Howard Newhouse grew up to be a surveyor and avid historian. Although busy with work and raising a family, he never forgot about the neglected booty. In 1960, Howard acquired rights to it. With the aide of several reluctant friends, the notably heavy collectors item was transported several miles upriver--no small task--to his residence. At its new location, the gun was mounted and aimed, jokingly, at a neighbors house, unloaded of course.

For over 40 years, the cannon adorned Howards lawn and made a great conversation piece for the secluded, myrtle-treed neighborhood. All the while, his research of the firearms history continued. Bit by bit, a file accumulated. A series of letters, interviews and tattered newspaper clippings eventually solved most of the puzzle.

Not yet fully satisfied, Howard decided to contact an expert on collectible guns. In 1994, he documented all the necessary measurements, took photographs, and sent the data off to an office in Baden, Pennsylvania.

Wayne S. Stark promptly sent this reply: Your rifle is unique among known surviving artillery tubes. I believe it is a 4.62 iron insurance rifle purchased for use on a private merchant ship sometime in the late 1850s or very early 1860s. During many periods in U.S. history, merchant ships had to carry a certain amount of artillery in order to obtain insurance for each voyage. While this gun is evidently unmarked, I suspect it was made by Cyrus Alger & Company of Boston.

This significant piece of information brought the tale of Rogue Rivers cannon to near completion. In all likelihood, Robert D. Hume purchased the gun at some distant port to protect his wares from roving pirates. His merchant ships often sailed between Seattle, Portland, and San Francisco as well as destinations farther, north and south.


At some point, he must have determined ocean transport was secure and opted to bring the weapon ashore. Since its arrival, the gun had been highly regarded, repulsively thrown-away, and almost completely destroyed. Fortunately, the rarity was then tucked safely away from harm.

In June of 2002, the Curry Historical Society was the fortunate recipient of this exceptional and important artifact. Jane Newhouse donated the cannon on behalf of her late husband, Howard, so once again it could be publicly seen and appreciated. Undaunted by its density, a volunteer force of construction workers set out to make the retrieval aptly equipped with a huge flat bed truck and high-tech fork lift--makes one wonder how the pioneers got the job done.

Today, the cannon stands--a vigilant sentinel--in front of the Curry Historical Society Museum in Gold Beach; thus this final chapter comes to a close. My questions were answered thanks to the foresight and relentless curiosity of Howard Newhouse. This altruistic historian redeemed the invaluable curio and revealed its secrets. Hence, he salvaged a remarkable piece of our history that, as of 2005, remains part of Oregons coast for 123 years and counting.

Robert Deniston Hume ~ Oregon's Salmon King
Written by Laurel Gerkman
(Published in Oregon Coast Magazine, March/April 2005)



Robert D. Hume lived and breathed economics. From humble beginnings, he earned and enjoyed wealth. This vigorous pioneer excelled as an entrepreneur, inventor and legislator. However, amid an age of exploitation, Hume is most remembered as an apostle of conservation. For thirty years, at his own expense, he studied the artificial propagation of coastal salmon.

Hume was born in 1845 to poor parents in Augusta, Maine. A bright boy, he repeatedly demonstrated his imaginative abilities. Mr. Deniston, an observant neighbor, recognized the little fellows potential and adopted him at the age of six.

As a young man, Hume left the east coast for California. On the Sacramento River, his brothers had established a salmon fishery. He joined their endeavor and quickly became respected in the field of canning. Humes mechanical ingenuity was demonstrated, throughout his career, with 24 patents on improved can-making machines.

Salmon numbers dwindled, so the Humes traveled north to the Columbia River in search of new territory. There, they found relentless competition among the fisheries. Robert Hume overcame many problems with innovative ideas that even rivals considered clever. Unfortunately, success mixed with tragedy when he lost his first wife and two children to illness.

Distraught and alone, the widowed industrialist sought a new location. In 1876, Hume arrived in Ellensburg, at the mouth of Rogue River, where he purchased a struggling fishery. In the book, The Salmon King of Oregon, Gordon B. Dodds described Humes appearance: Here was to be his empire. Here he was to seize the salmon, the shore, and to a large measure, the people

That year, aboard a ship headed for the Suislaw River, Hume met Mary Duncan. The elegant and educated twenty-year-old New Zealander found Robert dashing and handsome. Her cheerfulalthough reserveddemeanor impressed him, and after a brief courtship, they married.

At Ellensburg, later named Gold Beach, Hume set to work developing a complex fishery. All aspects came under his control, from hatching to catching and canning to selling. He understood a monopoly could cut operational costs and increase profits, so the visionary capitalist set this strategy into motion.

Meanwhile, beginning in 1877, Hume began his greatest workthe artificial propagation of salmon. His experiments, although rudimentary, eventually proved that sustained conservation had economic worth. By 1893, this dedicated student of ichthyology wrote, published and funded a booklet entitled, Salmon of the Pacific Coast. He distributed copiesat no costto anyone interested in the subject.

Hume accumulated large tracts of land. Before long, over 94,000 acres of Curry County belonged to him, including all tidelands along the Rogue. Fishing, he declared, was privately owned. Anyone not employed by him had no right to fish from his land, and he defended this assertion for 30 years.

In order to retain such an unprecedented claim, Hume guarded it ceaselessly. He entered politics to defend his domain. He viewed this action as a neither public service nor personal glory, simply a business expense. In 1900, his passion for litigation found him elected into the Oregon legislature and re-elected in 1902.

Humes empire expanded. The extensive cannery buildings now included a sawmill, blacksmith shop and a boat-building facility. Nearby, he constructed a hotel, saloon and general store. In less than 20 years, his command of Gold Beach appeared complete, encompassing every facet of the community.

Providing merchandise and services gave Hume domination over the lower Rogue River economy. Mercantile trade was a core component to his business, and he deliberately aimed to repossess employee wages and profit on the exchange. Animosities against him grew, and townsfolk resentfully nicknamed their employers King Bob and Queen Mary.

Shipping was a crucial element of Humes empire, needed to import supplies and export product. Since his entrance into the Columbia, he acquired vessels of various types, among them steamers, tugs and gasoline-powered schooners. Operating a line of such ships was no small venture.

In 1880, at Ellensburg, he built a sturdy steamship. The Mary D. Hume, fondly named for his wife, operated in various capacities for over 100 years: a fascinating story in itself. Today, her decaying remains are still visible in the harbor at Gold Beach.

Humes enterprises also comprised several other large-scale undertakings: gold mining, timber harvest, livestock ranches, commercial fruit and vegetable growing. A serious man, he believed material riches rewarded intelligence. He dressed in black and often poured over his books until late at night.

In addition, Hume retained stock in an Alaska salmon fishery, but he refused to participate in policies of the Alaska Packers Association. A series of hostile disputes ensued. Members of the A.P.A. made various attempts to interfere with his Oregon fishing practices. The final result was ruinous. On October 20, 1893, Humes newspaper, the Gold Beach Gazette ran this headline: A DESPERATE ACTGold Beach Cannery fired by an Enemys hand. Burned flat to the ground.

Hume felt certain the fire was an act of arson and that several Gold Beach citizens were involved in the crime. Losses amounted to more than $75,000 in damage. After numerous legal battles with the A.P.A., he succumbed and sold the controversial Alaskan holdings.

Angry and determined, Hume decided to move his entire operation to the Rogues north shore. Loyal employees followed, floating lumber, machinery, dry goods and three houses across the river. Construction began at once. He dubbed his new town Wedderburn, meaning sheep-creek, in reference to an ancestral property in Scotland.

In Wedderburn, Hume started another news publication called the Radium. In its second issue, he began to write a lengthy, self-indulgent chronicle entitled The Autobiography of a Pygmy Monopolist. It appeared in 20 chapters, describing his childhood and earlier life. He speculated these memoirs might help folks understand his eccentricities.

Over the years, Hume bought and bred a number of thoroughbred horses. In 1906, the collector began to show and race them locally. The following summer, he erected the Marchmont Jockey Cluba racetrackand offered $1000 in purses. He found this pastime unprofitable, but it allowed him the opportunity to feign the role of squire for a weekend.

Throughout the latter part of his life, R.D. Hume was plagued by repeated health problems. At the peak of his accomplishments, fate took him. On the morning of November 25, 1908, he died from assorted complications. Despite his reputation as an unlovable man, more than three hundred mourners attended his memorial service. Oregons Salmon King was laid to rest on a knoll overlooking his beloved Rogue River.

After his death, Mrs. Hume sold their Oregon assets and moved to San Francisco. Around 1913, she decided to exhume her husbands body and re-bury him in a family plot at San Mateo. When Mary passed away, she left the remainder of their estate, approximately $400,000, to charity.

Some historians view Hume as an intelligent, colorful and ingenious man. Others describe him as possessive, domineering and belligerent. All of these lifelong characteristics aided him in creating and protecting his kingdom. Gordon B. Dodds, historian and author, once wrote: Humes career is significant because it exemplifies the beliefs of his era. In Oregon, he mimicked the titans of this nation.

Little evidence remains of Humes existence, but his contributions to artificial propagation have proven vital to todays salmon industry. Shortly before his death, on January 2, 1908, in the Radium, this announcement appeared: The Hume Method Is Finally Adopted by United States Bureau of Fisheries.

Oregonians have Robert Deniston Hume to thank for the gift of a sustained supply of salmon.

Hangin' on the Coast

by Laurel Gerkman
(Published in Oregon Coast Magazine, Sept/Oct 2005)

Angora goats are not indigenous to the Oregon coast. Yet, an observant seeker can sometimes spot a small, feral herd grazing peacefully along the edge of steep cliffs, high above the crashing ocean surf. If headed for Pistol River and Brookings, bring your binoculars!

Its a heart-thumping sight, but theres no need for concern. These rugged and robust beasts are well suited for rough terrain. Stocky, muscular limbs, split hooves and a keen sense of balance allow them to navigate precarious ledges with ease.

The normal life span of the sure-footed Angoras is 10-12 years. Bucks weigh in at 120 lbs., does about a third less. Permanent horns are wide-set on the males, spiraling outward and back, giving a magnificent impression.

Their glossy, soft fleece, called mohair, is fire-resistant and highly prized for use in quality textiles. Under drier and milder climate conditions, the goats produce a fine, attractive, white hair that falls into soft ringlets.

Distant predecessors of this herd are believed to have come from Central Anatolia. In 1840, the Sultan of Turkey presented Queen Victoria with 22 of these agile creatures. Exports from Britain were brought west. Three decades later, the breed was shown at the Oregon State Fair, in Salem. By the centurys turn, a large flock prospered in the Willamette Valley.

Robert D. Hume, a successful entrepreneur, brought the Anatolian ungulates to Gold Beach. He theorized their adaptation would be immediate, resulting in a lucrative investment. In 1905, an announcement appeared in Decembers issue of the Radium newspaper: On behalf of Mr. Hume, 400 fine Angora nanny goats and three registered bucks have been purchased in the valley. Goat raising in this county should become very profitable, as there is a vast quantity of evergreen brush.

Angoras thrive where there is a good cover of brush, weeds and grass for chomping. Early ranchers expected them to quickly clear large tracts of harsh coastal rangeland as well as provide valuable mohair for shearing.

Sadly, Hume's theory proved incorrect. One year after their introduction, the February 1906 edition of the Radium reported: It is regretted that considerable losses have occurred among the band of Angora goats that were brought in for Mr. Hume last fall. It appears that the finest bred are the most delicate. Previously confined to pastures, their extensive new range gave too much latitude causing them to travel until exhausted.

Hume's men rounded up the survivors and placed them into restricted grazing areas in neighboring homesteads. After 1950, the goats proved less useful and were either sold, butchered or released into the forest. A few did subsist, adapting to the often cool and wet environment.

The south coasts wild bunch learned to endure abundant rain and prolonged dampness. In contrast to a normally whitish and silky appearance, their unshorn fleece hangs grungy-gray with coarse, shabby locks.

A century later, a couple of dozen hardy descendents remain, clinging to bluffs in the vicinity of Boardman State Park. Take a look; you might catch a distant glimpse of these elusive and enchanting critters.