Welcome to our Neighborhood!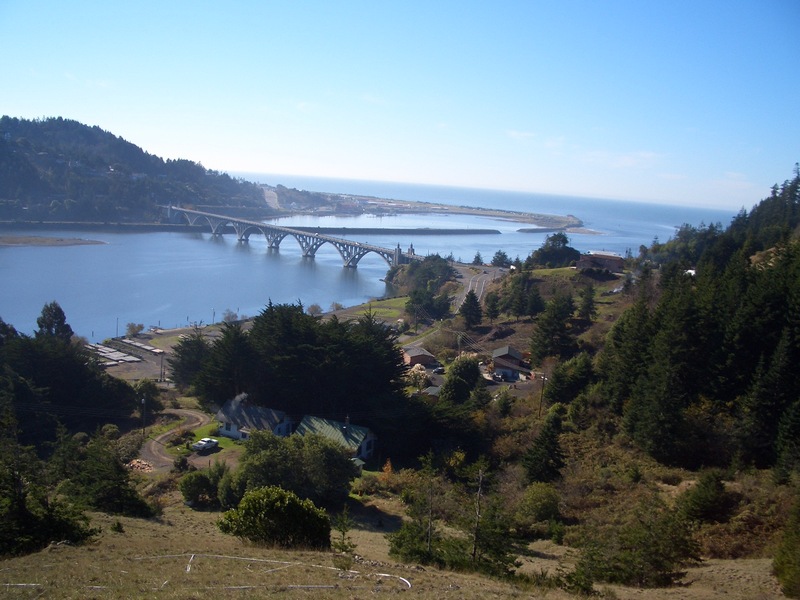 Scroll down & click on these useful information links about Gold Beach, Oregon

Learn more from the GOLD BEACH CHAMBER OF COMMERCE and the

GOLD BEACH VISITOR CENTER

You might want to know HOW'S THE CLIMATE IN GOLD BEACH or

check out a current LOCAL WEATHER forecast.

Check out our CITY OF GOLD BEACH or look for EMPLOYMENT

The main county medical facility is CURRY GENERAL HOSPITAL and

we now have a new CURRY PUBLIC LIBRARY and a small, yet growing SOUTHWEST OREGON COMMUNITY COLLEGE

Need more details? Answers can be found at

CURRY COUNTY public services, CURRY COUNTY REPORTER newspaper.

Here's a GOLD BEACH CITY MAP and we do have a small AIRPORT.

Moving from out of state? Learn more about OREGON.

Continue scrolling down to visit interesting businesses, discover area activities, events, & resources as well as a few lodging options:

GOLD BEACH BOOKS, FISHERMEN DIRECT SEAFOOD,

BACKWOODS MAGAZINE, the world famous TUTUTUN LODGE

MOOSE CREEK BATH & BODY, WOOF'S DOG BAKERY

Grab a bite at Barnacle Bistro

Enjoy a jet boat trip upriver with JERRY'S ROGUE JETS or
ROGUE RIVER MAIL BOATS.

Hiking and camping opportunities in the SISKIYOU NATIONAL FOREST.

World class golfing at BANDON DUNES and SALMON RUN.

The Rogue River is famous for KING and CHINOOK SALMON as well asSUMMER andWINTER STEELHEAD fishing. A dedicated group of volunteers at the Curry Anadromous Fishermen maintain the fish hatchery to sustain our salmon population. See how you can help!

One of the nation's best ATV sites is located north at
OREGON DUNES

Follow Sandy's TIDEPOOLING adventures or learn about Whale Watching.

Listen to historical snippets about Southern Oregon at Jefferson Public Radio's daily series AS IT WAS

Area events worth checking out are: monthly PISTOL RIVER CONCERTS and annually the SOUTH COAST WRITERS CONFERENCE. There's also art galleries, activities and businesses located inside the GOLDRUSH Center.

Looking for short or long term vacation rentals while you visit?

ALL ACCESS MANAGEMENT or OREGON COAST RENTALS or BREAKER HOUSE VACATION RENTALS or WILD COAST VACATIONS

Other lodging...IRELAND'S RUSTIC LODGES, GOLD BEACH INN, PACIFIC REEF RESORT, TURTLE ROCK RESORT, GOLD BEACH RESORT, HONEYBEAR RV RESORT & CAMPGROUND

Read about the many wonderful places to visit in your new coastal neighborhood and the Pacific Northwest region:

Oregon Coast and Northwest Travel magazines.

Gold Beach is part of the WILD RIVERS COAST!

And, if you are interested.............
Historical Overview of Gold Beach

Gold Beach Oregon is located by the mouth of the mighty Rogue River, where it flows into the ocean. Gold Beach stretches back more than a millennium. It's history is the story of several Native American cultures, Spanish explorers, pioneers, European fur trappers, miners, settlers, ranchers, loggers, commercial fishermen, and mill workers who preferred the islolation of this coastal paradise.

The climate is very mild for the Oregon coast. 3/4 of the days in the winter are as warm as the average of summer days. Nights are cool. The outdoors can be enjoyed in all of the seasons here at Gold Beach.

This beautiful area has an abundance of recreational activities. Explore the mountains, beaches, wildlife, campgrounds, fishing, kayaking, windsurfing, wilderness mountain hiking or biking and much more! Or, just sit back and soak in the spectacular scenery.

From inland, traveling westward, the Rogue River winds +/-250 miles through Grants Pass, Galice and other towns and ends its journey at Gold Beach. The Rogue River is a rafters paradise for excitement and nature watching. But be careful, parts of this wild river are very dangerous to raft. Please check with an experienced river guide before proceeding. This area is famous for it's Steelhead & Salmon fishing, and there are plenty of fishing guides available.

The early story of Gold Beach is a weaving of Native American cultures and wars, Spanish explorers and European fur trappers, ranchers, gold miners, loggers, fishermen, mill workers and town folk - all building a special kind of life in an amazing place that´s never lost its natural allure. Gold!

The history of the area that has most influenced the Gold Beach you see today began in the mid-1800´s. In 1853, a short time after gold was discovered in California, the shiny stuff was found in the beach sand near the mouth of the Rogue River. Gold Beach was born, and established fast. Originally given the name of Ellensburg, in 1858 the town became the county seat of the newly formed Curry County. But everyone called it Gold Beach and later the name was officially changed.

Prospectors poured into the area and set up their sluice boxes, and soon a number of small enterprises sprang up around them, with people making a living on salmon, logging, tanning and simply keeping all those folks stocked with food and dry goods. Copper and other minerals were also mined and at one point there was even a jade mine above Agate Beach. None of the mines ever amounted to much, compared to the gold fields elsewhere, but there are still a few gold mining operations in the upriver area and gold can still be panned on the beach.

The prospectors are long gone, but many small outposts on the Rogue still ply goods to a different kind of fortune hunter - the angler.

Hard to imagine, but in the late nineteenth century it wasn't known that salmon would take a hook and line; for years salmon was heavily harvested with seine and gill nets. In 1876, Robert D. Hume established a canning operation and very quickly came to dominate the industry locally. In 1878 he built the first fish hatchery in the area at Hatchery Gulch just south of Indian Creek.

In 1896, a Mr. Frank was fishing for trout near the mouth of the Rogue River using a fly rod and small spinner. To his and everyone else´s surprise he reeled in an 18-pound salmon, and Rogue River sport fishing was born.

Salmon has played an important role in contributing to the local economy since. As gold mining, fur trapping and the lumber industries declined in importance locally, each forced a large number of people to leave the area in search of work. After 1908, commercial fishing on the Rogue expanded rapidly and the salmon fishery was largely depleted in a very short time; in 1935 commercial fishing on the Rogue was ended by state legislation. Since then sport fishing has taken off and a number of enthusiasts have formed organizations to protect and increase the salmon population not only in the Rogue, but also in other coastal rivers up and down the state. Today the salmon, steelhead, trout and other sport fish draw enthusiasts from around the country to this small town.

Oregon Land, Oregon Waterfront Homes, Gold Beach Vacation Property, Southern Oregon Coast Homes, Recreational Land Gold Beach, Southern Oregon Farms, Gold Beach Coastal Property, Ocean View Property, Southern Oregon Real Estate, Rural Real Estate, Gold Beach Investment Properties, Gold Beach Commercial Real Estate, Southern Oregon Properties