About Gold Beach Oregon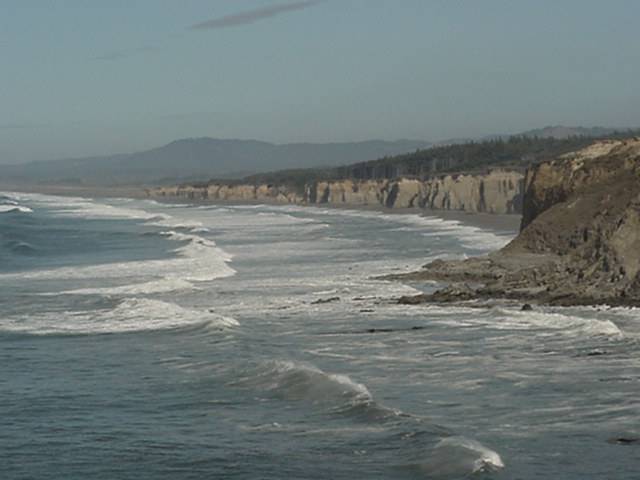 Surrounded for miles by spectacular scenery, Gold Beach is the county seat for Curry County, Oregon's southwestern corner. The population within the city limits of Gold Beach is approximately 2,200 with the immediate surrounding area substantially increasing that figure. The total population of Curry County is around 25,000.
The world famous Rogue River is one of the most beautiful in America and is a designated "Wild & Scenic River". In addition to the Rogue, the numerous tributaries of Oregon's Wild River's Coast offer some of the best salmon/steelhead fishing and recreational opportunities anywhere.
Pistol River is located several miles south of Gold Beach. The scenery along Highway 101 here is one of the most photographed stretches of beach in America, because of numerous, rugged seastacks, tidepools and accessible beachcombing. There are only a few hundred residential properties in the surrounding area with a small, local post office.
Curry County is blessed with an abundance of pristine natural resources in all directions. Over 100 miles of dramatic coastline and accessible beaches, comprised mostly of state park lands, stretches both north and south. East of Gold Beach, the Siskiyou National Forest covers a million acres of forest and wilderness lands with a multitude of hiking and back packing trails. West, the area is bordered by the vast and powerful Pacific Ocean.
Gold Beach Real Estate
Gold Beach Oregon Real Estate is one of the most unique style homes in Oregon. They resemble victorian style homes built by certified contractors. The residents of Gold Beach love living here because it is a secluded community along the beautiful sandy beach. Everybody here are friendly, caring people who welcome all new residents. Come join the fun of Gold Beach, OR and start searching for your new home today! Check out my hand chosen listings or search the FREE MLS. Please feel free to email me if you would like FREE Brochures on Gold Beach.

Gold Beach Oregon Climate
Gold Beach climate is one of the most mild and temperate in the United States, boasting the highest "total sun hours" on the Oregon and Washington coasts. The average rainfall is 80 inches with the majority falling during the winter months. Southern Curry County is part of Oregon's "banana belt", enhanced by a growing season of over 300 days, allowing as many as 50 or more species of flowers to bloom in January.
Highs
Lows
Jan, Feb, March
55
40
April, May, June
60
45
July, Aug, Sept.
67
52
Oct, Nov, Dec.
60
45

Average Annual Precipitation:74.880

Source:
Oregon Climate Service
Gold Beach Airports
The Gold Beach Airport can accomodate aircraft up to and including Lear Jets, Citations and King Airs. Otherwise, the closest airports are located in Crescent City, CA; Eureka/ Arcata, CA; Medford, OR; North Bend, OR.
Gold Beach Health Care
The Curry General Hospital is a 24 bed facility, and is the only hospital in Curry County. The North Bend Medical Clinic has several physicians and support staff. For extreme emergencies, air transit "Cal-Ore Life Flight" is available to quickly transport patients to Medford.
Gold Beach Recreation
Gold Beach is ideal for outdoor enthusiasts. In addition to hiking and fishing, there is swimming, windsurfing, mountain biking and numerous camping/picniking facilities. Also, the area is becoming a destination for whale watching and winter storm watching.

Jet boats trips up the Rogue River are nationally famous allowing visitors to view rugged wilderness and experience whitewater rapids from the comfort and safety of large, specially-designed passenger boats.

Cedar Bend Gold Course is located in lovely, protected Cedar Valley. Cedar Bend is a challenging (9) hole course kept in excellent condition for year 'round pland and many regularly scheduled tournaments and activities.
Gold Beach Taxes
Property taxes for the Curry County area are reported to currently be the lowest in the state, ranging from $6.8 to $10.8 per thousand dollars of assessed value depending on the properties location.
Gold Beach Fishing
SUMMER/FALL CHINOOK SALMON RUNS

The Rogue River is world famous, and fishing is no doubt the big reason. The salmon run that has over 200,000 fish mid July through October starts in the bay at Gold Beach and draws anglers from around the globe to Gold Beach, and this is the time and place for Chinook salmon, packed with energy from months at sea and ready to put up a big fight. Summer Steelhead & Coho Salmon are also around, starting in late August and mid September.

The first fish make their appearance in the lower river at Gold Beach around the end of March. Fish range from 15 to 40 pounds with the average about 20 pounds. Angling starts about a half-mile upriver from Gold Beach and stretches up to the town of Agness. Most of our guides use jet boats 20 to 25 feet long to make the trip as comfortable as it is thrilling.

Fall Chinook aren't the only action. The Rogue River is also famous for its Steelhead fishing. The Gold Beach ocean charter season goes year-round and is the best in Oregon, with consistent catches of ling cod and rock fish available just a few miles offshore.
Gold Beach Golf
Located 10 miles north of Gold Beach, Cedar Bend Golf Course's nine holes play like eighteen, set up with multiple tee locations and two flags on each green. We may be prejudiced, but we agree when golfers say the greens are the best on the coast, with Cedar Creek wandering across or alongside almost every hole.
There's a covered driving range, nine-hole putting green and a full-service snack bar that serves a chili youll look forward to as much as the game.
If you arrive by RV, ask about the 11-site campground, with its resident deer, occasional elk, and an interesting bird population. Theres even a trickling stream to lull you to sleep.
Thirty miles south of Gold Beach is Salmon Run Golf & Wilderness Preserve, a championship 18-hole course with five sets of tees on every hole, plus the most incredible views. One of its top attractions? The quiet like golfing in a forest. Which, actually, it is.
Surrounding South Oregon Communities